PRFSA 2021 Strategic Planning
Every 5 years the Peace Region Forage Seed Association updates their strategic plan to ensure they are delivering relevant relevant research and extension to forage seed growers in the AB and BC Peace Regions. There will be a roll up of the feedback received out to growers and industry in April/May 2021. Thank you to everyone who took time to contribute.
PRFSA Seminar & AGM
Our Seminar and AGM will be hosted virtually this year on Zoom. Please register for the meeting HERE OR email coordinator@peaceforageseed.ca or call our office at 1 877 630 2198.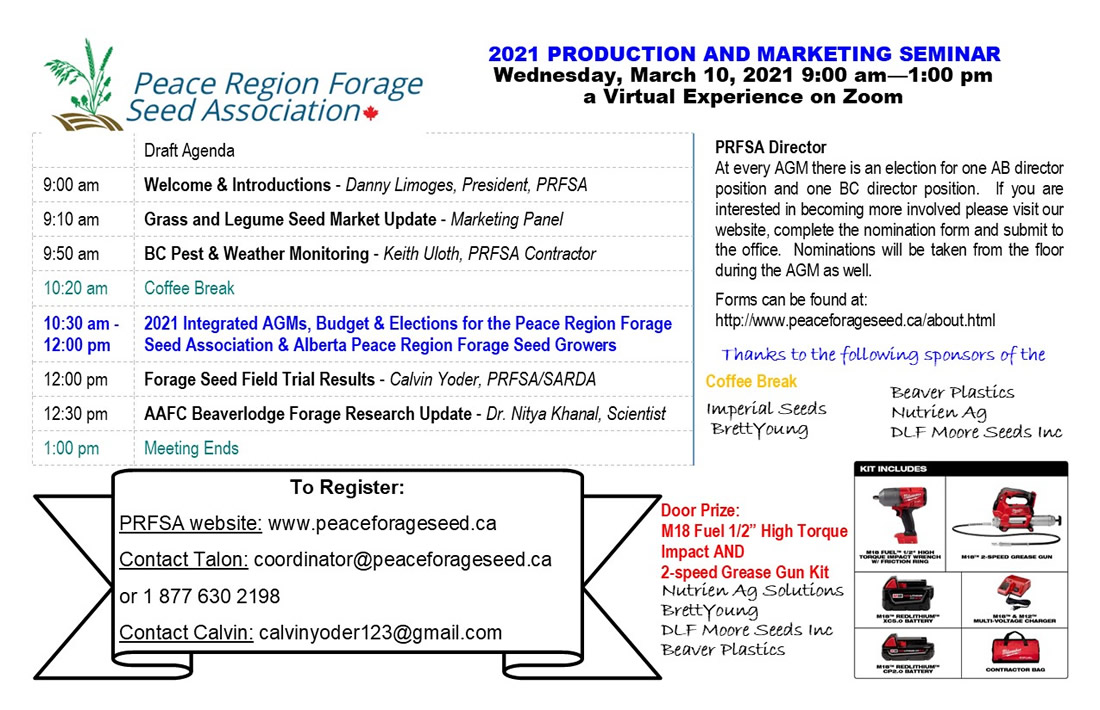 Forage U-Pick
New and interactive forage selection tool launched for Western Canada
The Saskatchewan Forage Council is excited to announce the launch of Forage U-Pick, a new interactive forage species selection tool for Western Canada. Designed to provide users with information for forage selection, seeding rates, and weed management, Forage U-Pick is a mobile-friendly tool offering timely and efficient advice.
Forages for hay and pasture are essential for beef production. Ensuring that forage species are well-suited to growing conditions improves establishment rates, yield, vigour and quality. The Forage U-Pick tool provides information that can help to reduce costs, improve utilization and number of grazing days, and increase profitability.
Forage U-Pick is an intuitive and easy-to-use platform:
Forages Suited to My Field allows users to choose their province, soil zone or a regional zone and provides a list of forage species that are suited to the selected zone.
The Seeding Rate Calculator is used once users have selected the forages they want to seed, ensuring that the right amount of seed is put into the ground to have the best possible chance for a good stand.
The Forage Weed Management area of the tool touches on how the economic success in forages can increase with proper weed control.

Forage U-Pick, launching June 8th, can be found on the SFC website www.saskforage.ca and at www.upick.beefresearch.ca.
Pest Monitoring Updates
During the growing season, consider accessing two resources supported by grower associations and commissions on the prairies:
The BC Pest Monitoring Project has been extended until 2019! This cross commodity project (Grain Producers, Forage Seed and Cattlemen) is coordinated by Julie Robinson & Keith Uloth.  Pest Updates, derived from in-field monitoring performed in BC Peace each growing season, are texted out weekly.  Contact Keith at 250-719-8322 or via email at pest@bcgrain.com to get added to the list or for answers to your pest questions! You can check out the updates on the facebook page.
The Prairie Pest Monitoring Network also produces the Weekly Update e-bulletins during the growing season that summarize emerging prairie-wide pest issues, and includes monitoring tips, risk warnings, and forecasts in order to support in-field monitoring and sound pest management decisions for growers across the Canadian prairies. Contact Jennifer Otani at 780-354-5132 or via email at Jennifer.Otani@agr.gc.ca. Check out the PPMN blog to stay current!

New BC Peace Weather Website
Check out the new (and under construction) weather website for the BC Peace Region. Please bear with us as we had to develop a new platform to deliver the weather information to you.
The new website can be viewed here. The website and decision support tools will be completed October 31, 2018. Tools to be added are:
Growing Degree Days
Fusarium model
Wheat Midge model
Weather forecasts
Historical Data
Alarms/Alerts
Any questions or concerns please contact Talon at 1 877 630 2198 or coordinator@peaceforageseed.ca.